Posted by AeowynFraser at Jun 25, 2016 10:10:35 PM
Re: Tudor Castle version 2
I realize it's been a while since I last posted any update on this house. I had actually stepped away from using the program for a while and have been reading a book series which has actually taken up quite a bit of my time.



Anyway, here's a bit of background on what I've done, today, on some modification to the kitchen. I saw on a social media site some pictures of rustic kitchens that inspired me on some changes. Here are the pictures I'd seen: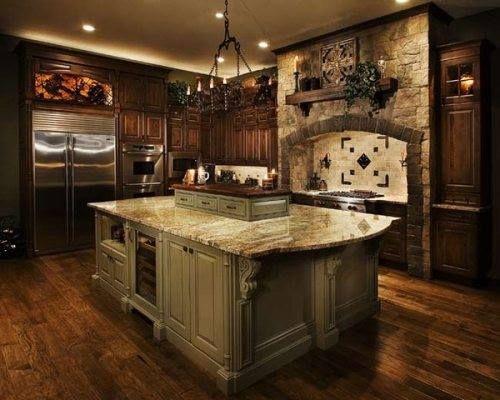 I really liked the idea of the island bar sitting area in the first picture and the brickwork around the stove area in the second picture, so I thought I'd try and work that in here. Just a disclaimer: since the file is so large (about 42 MB compressed) I couldn't get the best - or even second best - rendering so these next pictures are kind of rough.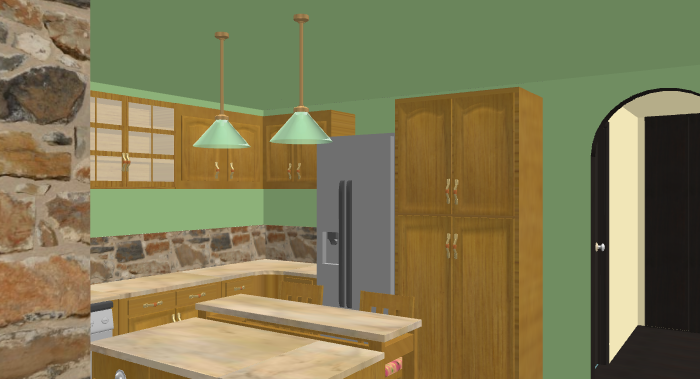 The first is taken from the corner near the hall entrance and the second is taken from the corner near the back door. I had to do some rearranging of the top cabinets, as well as changed the backsplash tiling, to make it work but I think it turned out rather nicely. I also added a second hanging light, but I thing I might look into changing them.

And lastly, I still haven't done anything with the backyard except for the patio area as previously shown. I'll try and work something out shortly, I think.


----------------------------------------