Sweet Home 3D 3.5 was released on April 28, 2012. Here are the main new features:
New options and behaviors to align furniture
Arranging furniture on the plan was never as easy as in this version.
First some new menu items were added in the Furniture menu and the Align or distribute furniture contextual submenu to help you align or distribute selected furniture.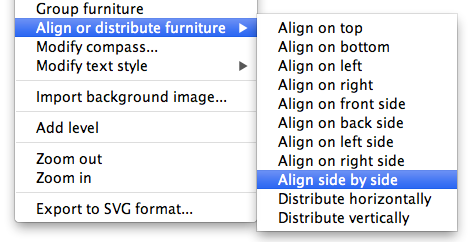 The Align on ... side items takes into account the orientation of the first selected furniture along which the other selected furniture is aligned (the front side can be recognized by the thicker line of its selection box), whereas the Align side by side item aligns the selected furniture side by side on the back side of the first selected piece.
Magnetism was also improved when a piece of furniture is dragged, to ensure it doesn't intersect an other piece if one of its borders overlaps the borders of an other piece of furniture. Finally, an anti collision system was implemented to prevent furniture to be dropped upon a wall, unless it's a door or a window. As in previous versions, this mechanism can be permanently disabled by editing the preferences, or temporarily disabled by pressing the Shift key while moving the piece.

New dialog box to edit virtual visitor coordinates
The new 3D view > Modify virtual visitor menu item or a double click on the virtual visitor icon in the plan lets you edit precisely all the attributes of the virtual visitor, that were already modifiable with the mouse.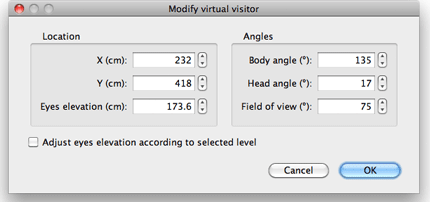 This dialog box includes also an Adjust eyes elevation according to selected level option available for homes with multiple levels. When selected, this option adjusts the total elevation of the point of view according to the currently selected level, making the virtual visitor go up or down to the selected level. If you want to keep the same elevation whatever level is selected, just unselect it.
Other features
From this version, zoom in the plan is centered on the mouse cursor when zoom is done with mouse wheel while the Ctrl key is pressed (cmd under Mac OS X). Mouse cursors were also improved with a new move cursor displayed upon objects you can move.
On the 3D side, the ground color now varies according to the light power set in the 3D view modification dialog box. The ground color of home files made with previous versions will be automatically updated to reflect this new behavior and this might lead to some small changes in rendering, according to the light power you set previously.
The direction of the rotation towards up / down was also reversed in aerial view mode, since this is generally how 3D software behaves.
Finally, I'd like to thank Wuteh who accepted to finance the improvements made on furniture alignment, and share them with the community. Reterio built a special tool based on Sweet Home 3D, that helps Wuteh to propose dedicated arrangements to their customers. Very nicely done!


by courtesy of Artur Urbanski