AeowynFraser
Advanced Member


USA
Joined: Oct 8, 2014
Post Count: 417
Status: Offline
---
Now onto the main floor.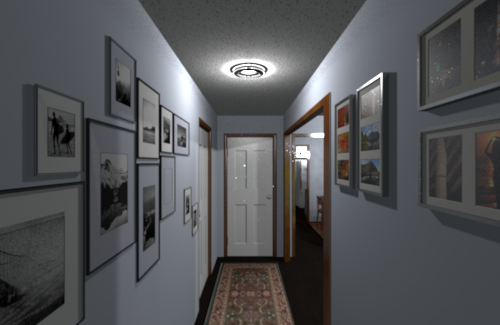 The entryway, just inside the front door. The door on the left is to the Study, the door straight ahead is a closet (under the stairs), and the opening on the right is to the Living Room (part of the Dining Room and a sliver of the Kitchen are visible).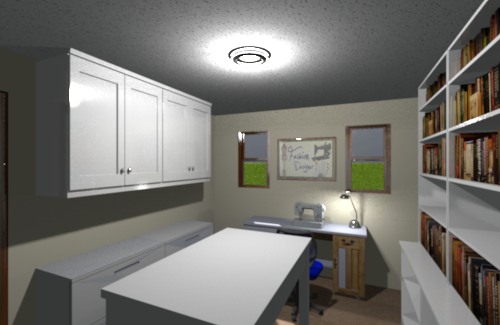 The Study, which I've decorated as a sewing room (big surprise

). It could also be another guest bedroom or what-have-you. There's a pair of closets behind the virtual visitor, the door to the entryway on the left with filing cabinets for patterns and upper cabinets for sewing notions next to it, sewing table and machine under the windows, bookshelves on the right, and the cutting table in the middle.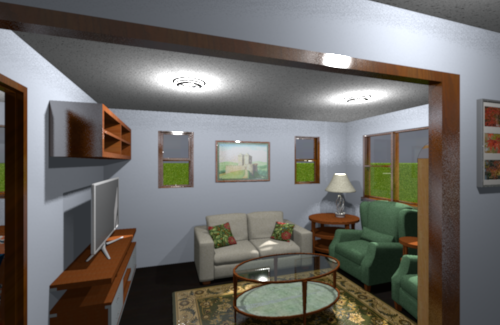 The Living Room.




The Dining Room. Taking a bit of inspiration from another of my houses (the Tudor Castle Rethink homes to be exact) I have one wall covered by a mirror, which is why it looks like there are two openings. The door on the other side of the Kitchen is to the Laundry / Utilities room.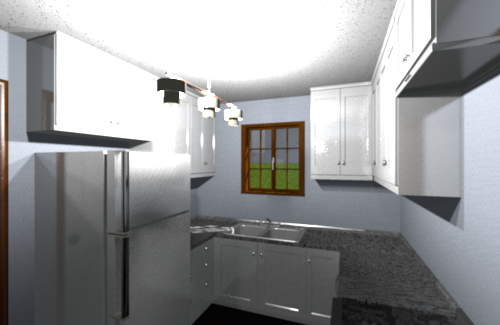 The Kitchen. Yes, it's a bit small but it does have the necessary appliances (refrigerator, stove, sink, dish washer) and not that little of storage.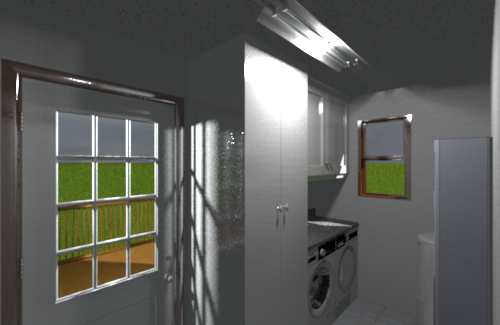 The Laundry / Utilities room. The door to the decking (visible through the door's window panes) is on the left, storage for cleaning items (vacuum, broom, mop, etc.) next to that, washer/dryer with a counter on top, upper cabinets for cleaners above that. On the opposite wall next to the door to the Kitchen has the wall-mounted HVAC system and hot water heater.




The hallway off the Kitchen, with the virtual visitor standing in front of the stove. The opening to the Dining Room is on the left with a good view of the full wall mirror. The opening to the hallway is in the middle which you can see the stairway and Guest bathroom door on the left, sliding doors to a linen closet in the middle and the guest bedroom on the left.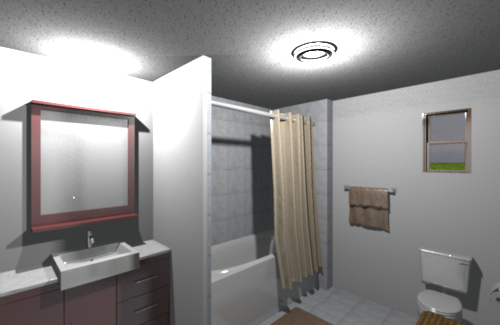 The Guest Bathroom. Yes, it is a mirror of the bathroom in the basement apartment, not only because it's right above it but in the placement of items in it. The only differences are the textures used and of course the window instead of the small cabinet above the toilet.




And finally (for this floor anyway) the Guest Bedroom. The double closets are just out of view on the right.
----------------------------------------

| | | |
| --- | --- | --- |
| [Sep 30, 2016 9:19:53 AM] | | [Link] |