Sweet Home 3D 4.3 was released on January 14, 2014 with a Windows 32-bit / 64-bit installer and some bug fixes described in version history.
32-bit / 64-bit Windows installer
The Windows installer program now embeds the 32-bit version and the 64-bit version of Sweet Home 3D, i.e. it's bundled with both 32-bit and 64-bit Java Runtime Environment copies. According to the 32-bit or 64-bit version of Windows you run, the installation process will automatically install 32-bit Sweet Home 3D or 64-bit Sweet Home 3D. If you select the installation folder proposed by default, the program will be installed in C:\Program Files\Sweet Home 3D whether you're under 32-bit or 64-bit Windows. If you upgrade from a previous version and use 64-bit Windows, it's better to uninstall Sweet Home 3D first in case you installed the previous version in its default folder, i.e. C:\Program Files (x86)\Sweet Home 3D.
The main benefit of using 64-bit Sweet Home 3D is that it will let you use more memory in the program to create and render bigger homes. For feedback purpose, the 32-bit / 64-bit version used by Sweet Home 3D is now indicated in the About dialog.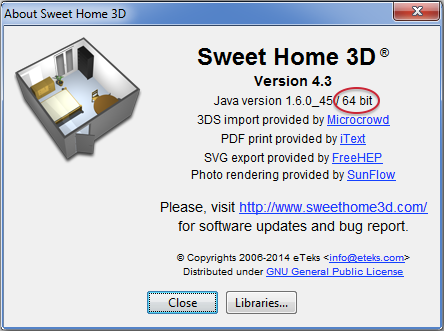 Management of detached 3D view
Many users reported in version 4.2 a problem with a 3D view that sometimes remained empty. I fixed that bug, as well as other bugs related to detaching / attaching the 3D view from / to the main window in multiple screens environment. Thus, this release should now work much better in such an environment.
Sweet Home 3D under Mac OS X / Java 7
Most other bug fixes are related to Oracle Java 7 under Mac OS X, where more changes had to be programmed to let Sweet Home 3D work as well as under Apple Java 6. These bug fixes were already released with the intermediate version 4.2.1 available on the Mac App Store that looks stable now.
Finally, let me wish an Happy New Year 2014 to you all. Hope you'll have some great time rearranging or designing your home.