On February 10, 2016, furniture libraries were updated with 180 new 3D models.


Supermarket 2016 by Véronique Puybaret
This update contains all kind of models created by Sweet Home 3D and Blend Swap contributors, as well as Scopia and Reallusion. It includes some furniture, some boys and girls, a few more animals and many new doors, windows and staircases. The following image shows all the new models and I hope you'll find them useful.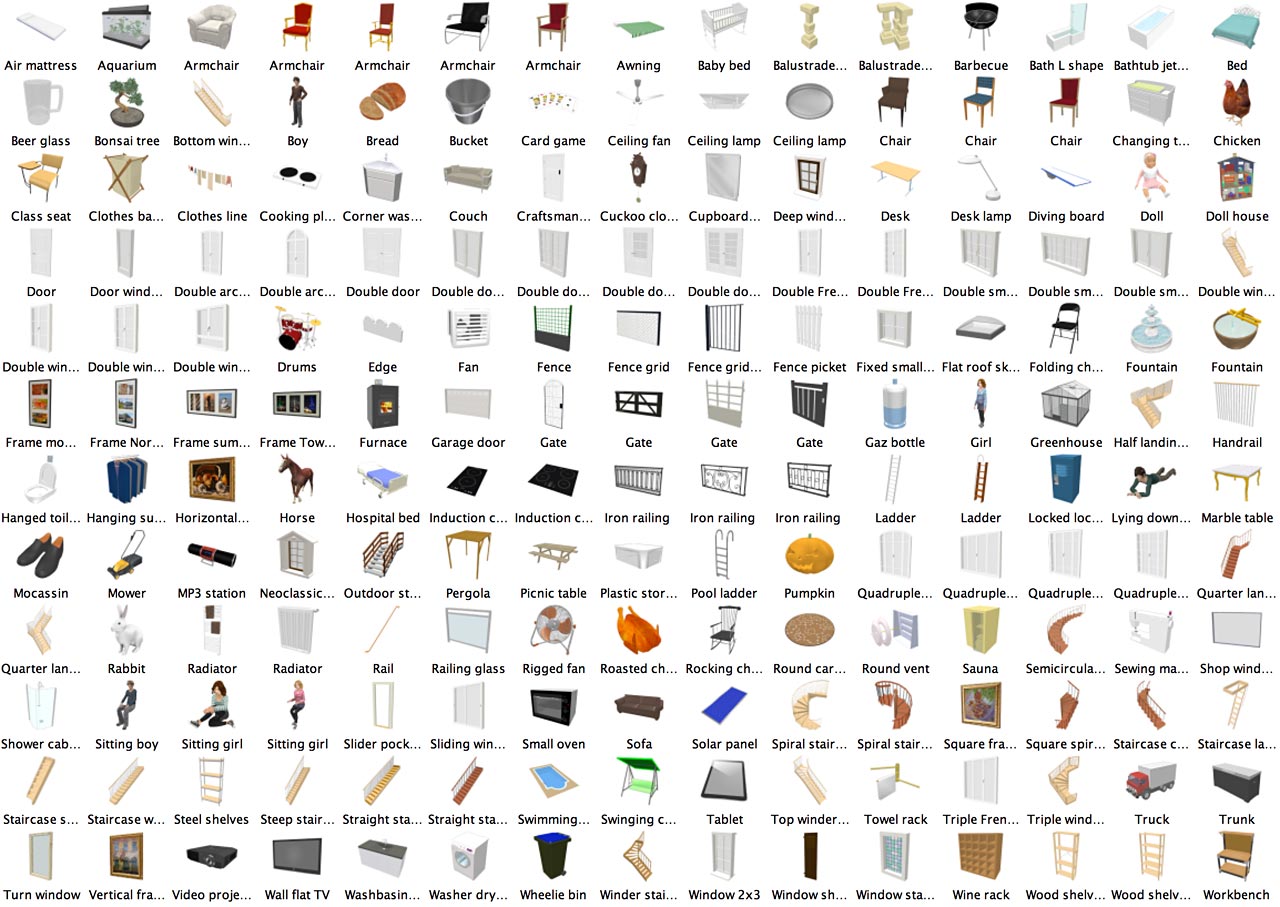 There's now a much larger choice of staircases, and the materials set on the new models let you configure them in many ways. You can customize their tread, riser, stringer, railing and baluster, or even hide a part if needed, using a transparent texture or the Invisible material option that will come soon in Sweet Home 3D 5.2.

This update includes also many more windows, from simple to quadruple windows, with or without small panes, as well as some arched windows. To get a more realistic rendering, it also proposes also a wider choice of railings.
These additional models are available at the free 3D models page and in the updated SH3F furniture libraries (a few older models were also fixed). Use the following links to download the updated librairies:
These SH3F files are (partially or fully) translated in Bulgarian, Chinese, Czech, Dutch, English, Finnish, French, German, Greek, Hungarian, Italian, Japanese, Polish, Portuguese, Russian, Spanish, Swedish, Turkish and Vietnamese.
The furniture catalog available in the Sweet Home 3D Online was also updated to let users have access to the 1205 available models. Like previously, the new Scopia 3D models are copyrighted jointly by Emmanuel Puybaret / eTeks and Scopia Visual Interfaces Systems.
Many thanks to all the designers and the translators for their contribution to free models, particularly to OKH for all the models he kindly contributed during the past years.