Do you want to test new decoration options in your home? Here are 182 free new textures distributed under Creative Commons CC-BY license and designed by Scopia, OKH and eTeks. The new images cover many different usages, like wallpapers, mosaics, rugs, exterior walls, garden grounds and other kinds of materials.

Added to the 236 previously released images, you can now quickly get 418 free textures in Sweet Home 3D, translated and optimized for the program. Except for the rugs images, all of them are seamless to let you apply them nicely on large surfaces.
Download textures
The new textures were added to the existing SH3T textures libraries that you can download with the following links:
The SH3T files included in these ZIP files may be installed by choosing Furniture > Import Textures Library... from the menu, and are translated in Bulgarian, Chinese, Czech, Dutch, English, French, German, Greek, Hungarian, Italian, Japanese, Polish, Portuguese, Russian, Spanish, Swedish and Turkish.
The textures catalog available in the Sweet Home 3D Online was also updated to let users access to the new textures.
As before, SH3T files are themselves some kind of ZIP files, from which you can extract individual texture images with any ZIP tool if needed.
New example in the gallery
Coming with these new libraries, here's a new modern house with a large terrace added to Sweet Home 3D gallery. Designed by Véronique, it uses of course some of the new textures.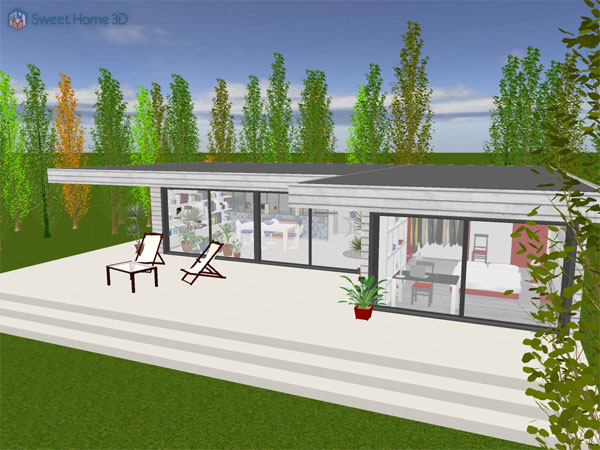 Many thanks to OKH and Carlos Folch from Scopia for their very nice textures, as well as to Sweet Home 3D faithful contributors who translated them.